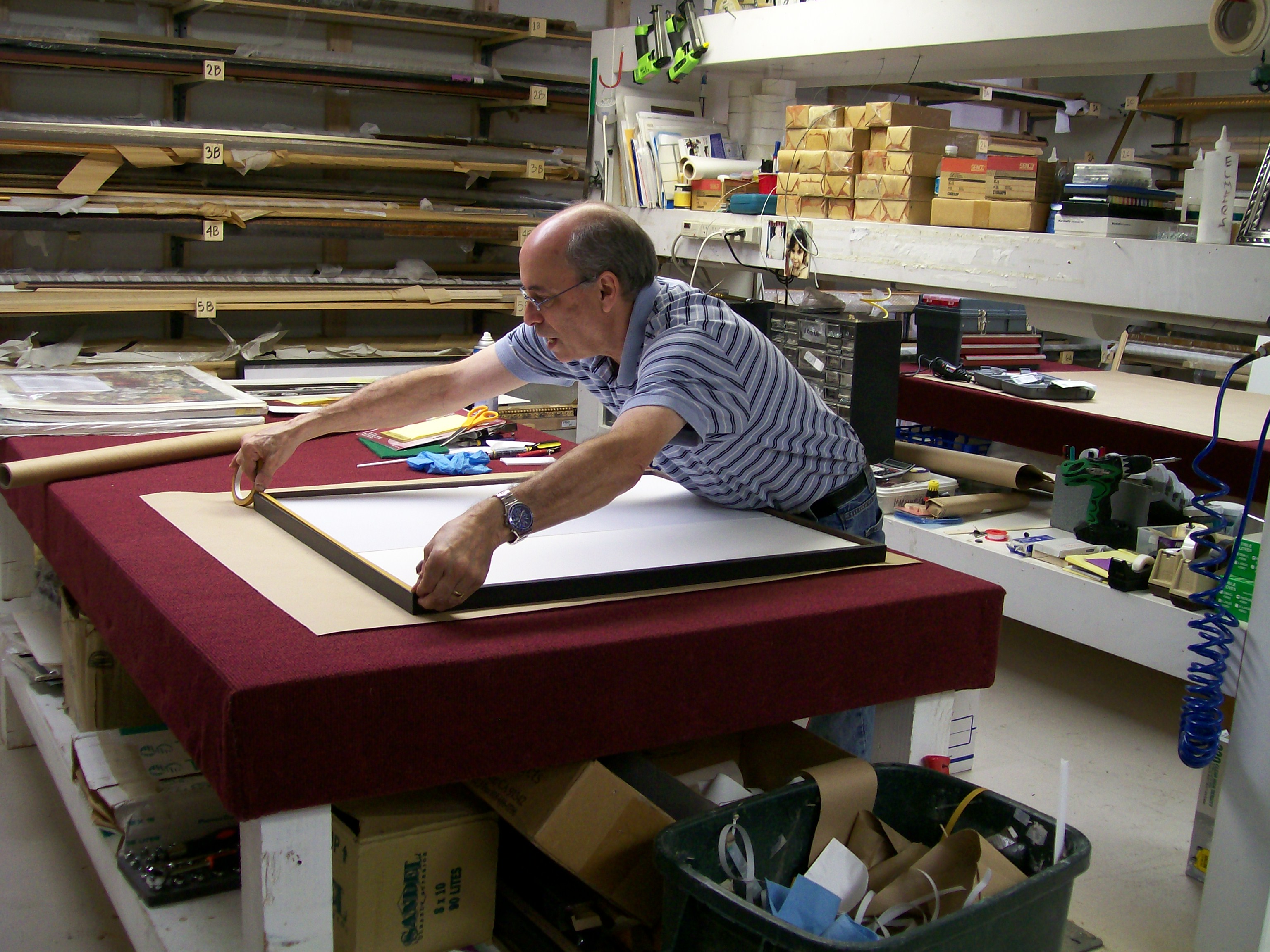 The gallery is owned and operated by Howard Surdin. The gallery was started by Howard's father, Lou.
Howard is a veteran picture framer and art dealer who specializes in residential, commercial and contract art. Howard also specializes in interior design, photography, digital retouching, mirrors and glass, archival preservation, architectural drawing and structural engineering.
For more than 30 years, Howard has provided his services to hotels, developers, casinos, luxury resorts and individuals in California and throughout the country.
Below is a sampling of the gallery's clients:
56th Fighter Group Restaurant
94th Aero Squadron's (40)
Aerie Gardens
AL&Z Designs
Anchorage Clarion Best Western (20)
Arby's
Augua Caliente Indian Casino (Palm Springs, Rancho Mirage)
Ayers Construction
Baby Does Restaurant
Barbara Sinatra Children's Center
Beach Side Cafe
Big America
Blixseth Companies
Bob's Big Boy
Bourret Interiors
Brecht BMW
Brecht Mini Cooper
Burger King (170)
Caesar's (Tahoe/Reno)
Cancun Resort (Las Vegas)
Cantalini Designs Palm Springs
Carl's Jr. (150)
Casitas at La Quinta Hotel
Centex Legacy Villa's (186 Units)
Century Homes
City of Indio
City of Palm Springs
City of Rancho Mirage
Comfort Suites (35)
Comfort Suites (Palm Desert)
Comfort Suites, San Diego
Concept of Time Shares
Country Suites
Countryside Inn (2)
Crawdaddys Restaurant
Crown City Inn
Denny's (175)
Der Weinerschnitzel (125)
Desert European Motors
Desert West Design
Diamond Joes Casino, Iowa
Dick Korte Design
Dupont Plaza (Puerto Rico)
Eisenhower Hospital (Gen Rms)
Eisenhower Hospital Birth Center
Eisenhower Hospital
El Pollo Locco (75)
Embassy Suites (5)
Estralla Inn
Evans Company
Fedderly Companies
Garden Grove Toyota
Gary Morton & Lucille Ball
Ginger Rogers
GMS Interiors
Golden Coast Realty
Graeme Baxter Gallery
Graphtec Design
Greenway Development Image Design
Griffin Homes
Hanalei (San Diego)
Havasu Dunes
Heart Institute of the Desert
High Sierra (Tahoe)
Hilton Hotel (16)
Hodges Design
Hollywood Costumes
Home & Commercial Suppliers:
Hotel Laguna
Hotel Metro
Hyatt Grand Champions
Hyde Evans Designs/ Seattle
Image Design
Imago Galleries
IMM Designs Incorporated
Impact Designs
In & Out Hamburgers
Indian Palms Timeshare
Indian Wells Yacht Club
Interior Production
Jack in the Box (125)
Joseph Wambuagh, author
KCBS Channel 2
KSL Home Center Baseball Hall of Fame
KSL Recreation
La Costa Spa. La Costa
La Pennsione
La Quinta (Irvine Chain)
La Quinta Hotel (La Quinta,)
La Quinta Hotel Casitas
Lewis Homes
Lodgeco
Lucy Curci Cancer Center
Lyons
Madison Club
Mc Donald's (300)
Mel's Coffee Palm Desert
Ministrelli Homes
Miracle Springs Resort
Mirada Homes
Mission Valley Inn
Mission Valley Steak House
Mossy Toyota
Nichols Design
Odyssey Restaurant
Orange Hill Mining
Orange Hill Restaurant
Palace Station (Las Vegas)
Palapas Gardens
Palos Verde Inn
Pea Soup Anderson's (2)
Peppers
Peterson Construction
PGA West Golf Resort Ford Motor Corporation
Premier Events
President Gerald Ford
Proud Bird
Puccini Design
R Bar Rancho Las Palmas
Razor Design
Red Robin Restaurant (15)
Ritz Grill
Riverside Resort (Laughlin)
Rivet Group
San Jose Lodge
San Luis Bay Inn
Santa Monica Lexus Desert West
Santa Rosa Cove Development Spa Hotel (Palm Springs)
Shakey's Pizza (3)
Shell Oil Corp. Offices Riverside Sheriffs Department
Sheraton (Newport Beach)
Sheraton, DC
Silly Al's Pizza (Arizona)
Sires V (2)
Snickers
Southern Hills Development
Spa Casino (Palm Springs)
Spa Hotel & Casino, Palm Springs
Specialty Rest Corp
Spotlight 29
Spotlight 29 Restaurant
Springs Club
Star wood
Stardust Hotel
Starkey Hearing Foundation
Stephen F. Austin Hotel California Hotel
Stouffers Hotel (11)
Sunset Auto Center
Sunset Marquis (LA)
Tamarind, Las Vegas
Taylor & Taylor Design
Taylor Family Foundation
Thai Smile
The Hideaway Golf Club Marvin Homes
The Larson Group
The New Agua Calienete Hotel
The Plaza (Palm Springs)
The Reserve Club The Vintage Club
The Rivett Group
Time Warner Communications
Toll Brothers
Toyota Corp.
Traditions Golf Club
Two Bunch Palms
US Grant Hotel, San Diego
V.I.P. Marketing
Villa's of Palm Springs
Vivant Interiors
Walter Marks Center for Art
Warmington
Westin Hotels
Westin Mission Hills Santa Rosa Cove
Westward Ho (Las Vegas)
Westwood Marquis (LA)
Zee Medical Corp Offices